Sankai Ou no Yubiwa
(『
珊海王の円環
』) is the 17th title of the Eroge Studio
Eushully
.
In the west-central region of Lunoche of the Raulbhach continent, there's a legend of a great pirate who hoarded up many treasures, defeated demons by himself, vanquished other pirates and established a nation. His name was Gautherio Bonezzi, the greatest ruler of the seas who achieved everything that he desired. However, that was not the end of the tale about the "King of the Coral Sea". Several hundred years later, he appeared once more on a ghost ship, proclaiming that he would grant an audience to the one who gathered all six rings to prove their worthiness and fulfill their wishes.

It seemed like just an old tale that could be passed off as a bedtime story, but then there were reported sightings of a ghost ship out at sea. Excited that the legend is indeed true, people began to battle with one another to collect the rings before the great king disappears again.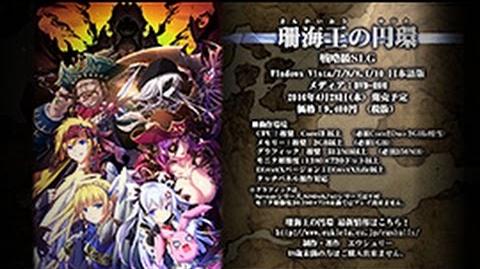 Information & Links
Edit
Sankai Ou no Yubiwa
Japanese
珊海王の円環
Romanization
Sankai Ou no Yubiwa
Brand
Eushully
Genre
SRPG
Release date
April 28,2016
Price
9,400 Yen
Rating
18+
Trial Version
Edit
Full Version
Edit
Append Data
Edit
English Interface Translation Patch
Edit
Patch to fix error
Edit
Ad blocker interference detected!
Wikia is a free-to-use site that makes money from advertising. We have a modified experience for viewers using ad blockers

Wikia is not accessible if you've made further modifications. Remove the custom ad blocker rule(s) and the page will load as expected.