? to 52 turns, 99% = 60 points, 10 max mana
53 turns or more, 99% = 30 points, 5 max mana
<=28 turns and 100% = 72 points, 12 max mana
<=24 turns and 100% = 84 points, 14 max mana
Replay Map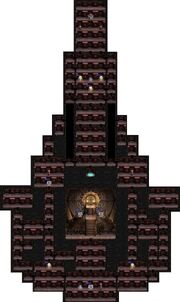 Enemies when you replay consist of
5 x Lvl 40 Yuichiri ユイチリ
5 x Lvl 41 Apsael アプサエル
To get 100% on this stage on the first playthrough you will need either:
A unit with both Flying and Search. This can be a level 30 gargoyle, or another Flying unit equipped with a Bandit's Monocle. Bandit's Monocle drops from Werewolves.
A unit with Flying, another unit with Search, and the Teleport Units magic.
If you didn't captured (or brainwashed) Sylphine, she will be here, and she want to get all yellow pillars.
If you have captured (or brainwashed) Sylphine, you have to get all yellow pillars.
If you have fulfilled the requirements for endigns with any of the girls, after this mission there will be an event selectable at the mission select screen. This event will determine which ending you get, so make sure to save before entering this event to have easier access to the other endings available. If there is no event, it means you are headed for a Bad Ending.
Ad blocker interference detected!
Wikia is a free-to-use site that makes money from advertising. We have a modified experience for viewers using ad blockers

Wikia is not accessible if you've made further modifications. Remove the custom ad blocker rule(s) and the page will load as expected.