Secret Rooms
Edit
Two rooms left of the boss area, bottom left of the room with 3 purple hazard tiles
Clear points
Edit
| | -24 turns | 25-44 turns | 45-60 turns |
| --- | --- | --- | --- |
| 100% | 33 CP, 8 BM | 28 CP, 7 BM | 16 CP, 4 BM |
| 81-99% | 28 CP, 7 BM | 24 CP, 6 BM | 12 CP, 3 BM |
| -80% | 24 CP, 6 BM | 19 CP, 4 BM | 7 CP, 1 BM |
Objectives
Edit
Victory

Engage Estelle in combat, then survive for 3 turns after that.
Defeat Estelle (optional).

Defeat

Your base is overrun.
50 turns pass.
Map Notes
Edit
The objective of this stage is to engage Estelle in combat for 3 turns, with a sub objective of killing her if you can. If manage to kill her within 3 rounds of engaging, there will be a H-scene and you can either let her go (1st choice) or capture her (2nd one), but either way you will miss out on stages 04-02, 04-03 and 04-04 and proceed directly to 05-01.
You can save just before defeating Estelle, defeat her and get the H-scene, then load back the save and wait out the 3 turns.
If you wait for 3 turns instead of defeating Estelle, there will be H-scene with Collete instead.
Treasures

Treasure in room next to starting room
Top Left Chest
Room with 3 Poison Swamp hazard tiles(green bubbly tiles):
Left Room with 2 treasures

Synthesis Fluid
Green Fruit

Middle room with 4 soldiers
Right side room with 2 treasures

Small Healing Water
Synthesis Fluid

Room with 3 chests

Mithril Steel
Wood Star Stone
Holy Staff

Bottom Right room with Euclid Rally points

If you replay the stage a new treasure chest shows up with Jupiter Stone inside.
On replay the monster portals have a chance to spawn treasure slimes. Though these may be hard to kill, they almost always drop coins. By saving and loading(They have a chance to spawn every 8 turns) it is quite possible to leave the stage with 3-4 coins.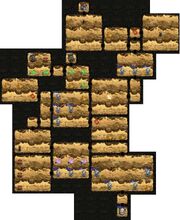 | Name | En name | Lv | Skill 1 | Skill 2 | Skill 3 | Skill 4 |
| --- | --- | --- | --- | --- | --- | --- |
| 一般兵 | Regular Soldier | 21 | Spear, 85% accuracy | | | |
| 弓兵 | Archer | 21 | Soldier's Bow, 85% accuracy,Causes Poison 1 | Counter Flying | Long Range Shooting | |
| | Worm | 21 | Bump, 90% accuracy | Acid | | |
| エステル | Estelle | 24 | Iuris Sword, versatile align | Dodge | Double Attack | |
enemy stats are random. the below are some samples to provide a general idea
Easy mode enemy stats
Edit
Normal Soldier

| Lv | HP | SP | FS | Atk | Def | Mag | Mdf | Spd | Luck | Mana | Mov | Alignment |
| --- | --- | --- | --- | --- | --- | --- | --- | --- | --- | --- | --- | --- |
| 21 | 25 | 0 | 21 | 14 | 10 | 0 | 4 | 8 | 4 | 7 | 3 | Physical |
Archer

| Lv | HP | SP | FS | Atk | Def | Mag | Mdf | Spd | Luck | Mana | Mov | Alignment |
| --- | --- | --- | --- | --- | --- | --- | --- | --- | --- | --- | --- | --- |
| 21 | 25 | 13 | 26 | 13 | 6 | 0 | 4 | 11 | 5 | 8 | 4 | Physical |
Worm

| Lv | HP | SP | FS | Atk | Def | Mag | Mdf | Spd | Luck | Mana | Mov | Alignment |
| --- | --- | --- | --- | --- | --- | --- | --- | --- | --- | --- | --- | --- |
| 21 | 38 | 10 | 22 | 18 | 7 | 0 | 2 | 7 | 4 | 12 | 3 | Earth |
Estelle

| Lv | HP | SP | FS | Atk | Def | Mag | Mdf | Spd | Luck | Mana | Mov | Alignment |
| --- | --- | --- | --- | --- | --- | --- | --- | --- | --- | --- | --- | --- |
| 24 | 78 | 30 | 36 | 27 | 20 | 0 | 17 | 14 | 12 | 15 | 3 | Omni |
Normal mode enemy stats
Edit
Normal Soldier

| Lv | HP | SP | FS | Atk | Def | Mag | Mdf | Spd | Luck | Mana | Mov | Alignment |
| --- | --- | --- | --- | --- | --- | --- | --- | --- | --- | --- | --- | --- |
| 45 | 69 | 0 | 34 | 22 | 20 | 0 | 7 | 15 | 10 | 7 | 3 | Physical |
Archer

| Lv | HP | SP | FS | Atk | Def | Mag | Mdf | Spd | Luck | Mana | Mov | Alignment |
| --- | --- | --- | --- | --- | --- | --- | --- | --- | --- | --- | --- | --- |
| 45 | 50 | 24 | 42 | 23 | 14 | 0 | 8 | 20 | 14 | 8 | 4 | Physical |
Worm

| Lv | HP | SP | FS | Atk | Def | Mag | Mdf | Spd | Luck | Mana | Mov | Alignment |
| --- | --- | --- | --- | --- | --- | --- | --- | --- | --- | --- | --- | --- |
| 45 | 71 | 19 | 34 | 19 | 16 | 0 | 9 | 11 | 8 | 12 | 3 | Earth |
Estelle

| Lv | HP | SP | FS | Atk | Def | Mag | Mdf | Spd | Luck | Mana | Mov | Alignment |
| --- | --- | --- | --- | --- | --- | --- | --- | --- | --- | --- | --- | --- |
| 49 | 115 | 42 | 50 | 39 | 32 | 0 | 24 | 23 | 17 | 15 | 3 | Omni |