Peaceful Grounds
Edit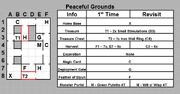 A tranquil collection area nestled in the south against the mountains. Since it is distant from the main area managed by the Guild, elves are permitted, but there are many creatures in the depths of the forest.
Gathering
Edit
H1 [6] | H2 [7] | H3 [6]Edit

Wood
~1.9/day
Aromatic Herbs
~0.47/day
White Grass
~1.9/day
Branches
~0.95/day
Red Mushroom
~0.95/day
Ripe Apple
~0.95/day
White String
~1.9/day
Elven Herbs
~0.47/day
Ad blocker interference detected!
Wikia is a free-to-use site that makes money from advertising. We have a modified experience for viewers using ad blockers

Wikia is not accessible if you've made further modifications. Remove the custom ad blocker rule(s) and the page will load as expected.