Mountain In The Sky
Edit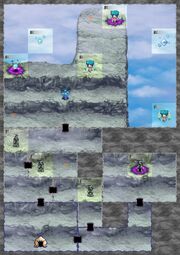 The northern part of the Yuwel mountains have become the de-facto border between Yuidora and Disnafrody. Demihumans have set up camp in this buffer area.
Gathering
Edit
Mysterious Doll
~0.035/day
Magic Stone
~1.05/day
Green Stone
~1.05/day
White Stone
~0.7/day
Floating Stone
~0.7/day
H1 [5] | H2 [5]Edit

White Grass
~3.5/day
Evening Primrose
~1.5/day
Ad blocker interference detected!
Wikia is a free-to-use site that makes money from advertising. We have a modified experience for viewers using ad blockers

Wikia is not accessible if you've made further modifications. Remove the custom ad blocker rule(s) and the page will load as expected.