Welcome to the English Eushully Wiki (EuWiki)
The wiki about Eushully and Anastasia that anyone can edit

Reminiscing 511 articles and 3,005 scenes since April 2, 2009.
Recruited 9 maids and 0 soldiers now.
Other language versions >> 中文版
---
Please help out with La DEA of Libra articles!
Quality checkers with fluency in English are needed as well for grammar & spelling checks in articles!
Featured Article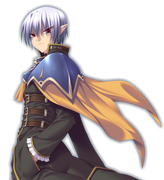 Louie Marshrun is a Half Demon God, whose father Guraza is the Demon God Guraza while his mother is a human. When he was little, his parents were killed by xenophobic humans. Thus despite being half-human, he grew up with a vengeful heart and swore to revenge upon the humans one day.
Helping Out
To write a new article, just enter the article title in one of the the boxes below.
Not sure where to start?
Adding content
Talk and more...
Check out the community portal to see what the community is working on, to give feedback or just to say hi.
Statistics
Since April 2, 2009:
We have created a total of 511 articles.
A total of 3,005 images were uploaded.
0 users are still active to date.
The community has made 22,385 edits on the wiki.
Think you can contribute to the numbers? Join us and pick up the challenge! We welcome anyone to our community!
What's New
2016/12/07

Eushully's 18th game 天結いキャッスルマイスター (Amayui Castle Meister) announced!

2016/11/30

Sankai Ou no Yubiwa Perfect Guide Book & version 2.0 append disk released!

2016/07/01

珊海王の円環 (Sankai Ou no Yubiwa) Download version released!

2016/04/28

珊海王の円環 (Sankai Ou no Yubiwa) Full version released!

2015/11/19

Eushully's 17th game 珊海王の円環 (Sankai Ou no Yubiwa) announced!

2015/04/24

Rhapsody of God Full version released!

2015/02/24

Rhapsody of God Trial version released!

2014/08/08

La DEA of Libra Perfect Guide Book & ver.2.00 append data announced!

2014/06/20

Battle Goddess Memoria Ver1.03 patch released!

2014/04/25

Battle Goddess Memoria Released!

2013/11/20

Battle Goddess Memoria announced!

2013/04/26

Madou Koukaku and Append 01 released!

2013/03/25

Minna Daisuki Kozukuri Banchou English translation patch released!

2013/02/19

Madou Koukaku trial version released!
Wiki Activity
Recent Wiki Activity
Ad blocker interference detected!
Wikia is a free-to-use site that makes money from advertising. We have a modified experience for viewers using ad blockers

Wikia is not accessible if you've made further modifications. Remove the custom ad blocker rule(s) and the page will load as expected.