Battle Goddess Verita 『戦女神VERITA』 (Ikusa Megami VERITA) or Battle Goddess episode-4, is the 11th title by Eushully. Although it is called Battle Goddess, it joins the Battle Goddess and the Princess General series, therefore it becomes the fourth in chronological series of Battle Princess series, describing the events between Princess General 2 and Battle Goddess.
This story continue after, the events in Princess General where Louis ended the war with Mesofiru Empire as victor. Ekria, Princess General of Karusha empire, whose defeated in the war even after awoken Himegami Feirins, escaped as a way of seeking dead she continue her travel with Godslayer Celica. As the bloodline of Feirins weaken seals that is put on the Nakahara continent, causing demons to awaken again. As Louis trying to overcome his emotion after he having to lose his beloved wife, he is force into choice to lead his nation to join with dark or the light force. How will encounter between the Two Hero Louis and Celica change the fate of the world.
Information
Edit
Battle Goddess VERITA
Edit
EUDV-011, DVD version was released on April 23, 2010 for 9,870yen or 9,400yen minus tax
DL版 was released on August 3, 2012 for 6,300 yen
Battle Goddess Verita
Japanese
戦女神VERITA
Romanization
Ikusa Megami Verita
Brand
Eushully
Genre
RPG
Release date
April 23, 2010
Price
9870 Yen
Rating
18+
For those who are wondering there is three addon Disc for this game.
Preorder Bonus - 『エクリアさんの弁当箱』 Eukleia's LunchBox with includes Append Data 01
Battle Goddess VERITA Complete Guide Book - includes VERITA2.0 disc with upgrade to ver2.0
VERITA_AP01.exe and VERITA_AP02.exe for those who didn't preorder the game here is append data 01 are the same as the Append Data in Eukleia's LunchBox.
VERITA_107.exe- ver1.07 update patch from eushully website
Downloads and Extra
Edit
External links
Edit
A downloadable edition of the game can be bought from DLSite Japan.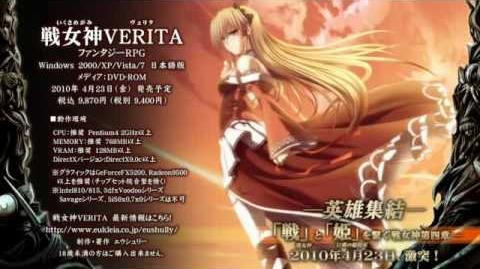 Verità is the Italian word for 'Truth'.
Ad blocker interference detected!
Wikia is a free-to-use site that makes money from advertising. We have a modified experience for viewers using ad blockers

Wikia is not accessible if you've made further modifications. Remove the custom ad blocker rule(s) and the page will load as expected.